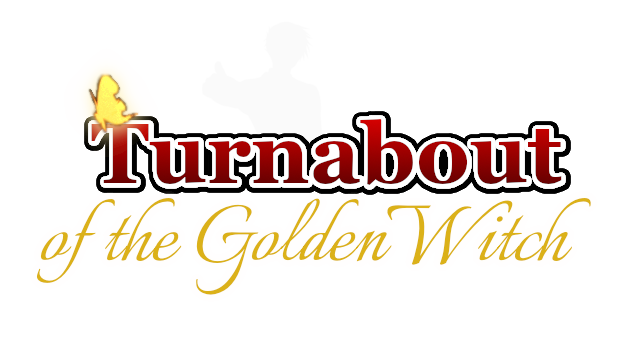 Turnabout of the Golden Witch
A downloadable game for Windows
Two unlikely lawyers step into the ring.
Whose logic will reign supreme?
An Ace Attorney fan game starring Battler Ushiromiya and Beatrice, the Golden Witch. As your client's appointed attorney, it is up to you to defend her from the golden prosecutor's assault. With the stage of battle firmly rooted in the world of human logic, will Battler finally defeat the Golden Witch?
* * * * *
Being a crossover, this game assumes the player is familiar with Ace Attorney gameplay (meaning there's no tutorial on pressing, presenting evidence, etc). It also assumes you've read episode 2 of Umineko no Naku Koro Ni.

The "prologue" PDF is a short story that sets up the case. It is completely optional, and I recommend you skip it if you haven't finished Umineko, due to potential (vague) spoilers.
About PyWright
The case is built on a modified version of the PyWright engine, an Ace Attorney casemaker written in Python. It is bundled with the game, and the game will NOT work with any other versions of PyWright. More about PyWright here: https://www.pygame.org/project-PyWright-904-.html
If you're familiar with Ace Attorney, navigating the UI via mouse clicks should be intuitive. PyWright also provides the following:
| | |
| --- | --- |
| <Esc> | Open PyWright menu, where you can configure graphical/audio settings and the like, as well as manage saves. |
| <F5> | Save the game state. |
| <F7> | Open the load menu. |
If you'd like to play the game on a Mac, I'd recommend Wine. It might be possible to hack the engine to work on OSX natively, but...
WARNING: PyWright is an old engine that isn't well-maintained. As a result, there is a sequence in the game which is a bit unstable: if you save and reload during the "revisualization" (thought route), you will be booted back to the beginning of that sequence. Thus, you'll have to finish that sequence in one go.
Also, please do NOT save in the middle of a line! Wait until the text from a line of dialogue has finished rendering before attempting to save. Testers encountered a rare bug where saving during a screen shake will potentially brick your save file.
Credits
DISCLAIMER: It's safe to assume I own nothing* that is packaged in the game files. This is a free fan game and generates no revenue. I am not affiliated with Capcom or 07th Expansion in any way. All intellectual property belongs to its respective owners.
All music is credited in the bundled tracklist.txt, and I claim no ownership over any of it.
Most of the art assets are originally from the Ace Attorney series, courtesy of http://court-records.net/
Other assets (mainly backgrounds, sound effects and music) are from the PS3 port of Umineko no Naku Koro ni. Said assets belong to Alchemist/07th Expansion. Please support the game on Steam if you can!
The "revisualization" animation uses the template created by TheDoctor, available here: http://www.aaonline.fr/forum/viewtopic.php?f=30&t=9244
Special thanks to Enigma for providing multiple rounds of feedback and suggestions on the script! Thanks to DWaM for answering my annoying PyWright questions, and thanks to Wobbu and Enthalpy for beta testing.


And finally, thank YOU for playing!

*With the exception of two sprite sets (Battler and Beatrice), to the extent one can "own" fan art. If you'd like to use these sprites in your own games, please feel free! I would appreciate a shout out and link to the project if you do use them.
Install instructions
No install should be required. Running Pywright.exe (the executable, not the text file named Pywright.exe...) after unzipping the directory should do the trick.